Sponsored
Sponsor: Aeon Magazine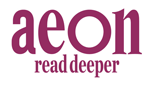 Our sponsor again this week is Aeon, a new digital magazine of ideas and culture. Aeon publishes an original essay every weekday, several of which have been picked for Longform. Here is a trio of recent favorites:
Luddite Love
Claire L Evans on why old relationships should fade like a photograph, not haunt your social networks forever.
Earth's Holy Fool?
Michael Ruse on the Gaia paradox — some scientists hate it, the public loves it, and they may both be right.
World Enough
John Quiggin on the emerging opportunity to simultaneously end poverty and protect the environment.
Read those stories and more at aeonmagazine.com.